10 Delicious Sandwiches to Make With Your Thanksgiving Leftovers
Ah, the annual question of what to do with Thanksgiving leftovers! Each year, the table remains full of food long after everyone's done, heaped with cranberry sauce, Grandma's sweet potato casserole, and piles and piles of leftover turkey. Recipes for Thanksgiving leftovers are an essential asset if you want to get it all eaten up before it goes to waste. Naturally, some simply like the encore of the same meal again and again, but that gets old fast for most people. If you don't want to waste dollars and food, it's important to spice things up! Why not try one of the best Thanksgiving leftover recipes out there and craft a master sandwich on the cheap?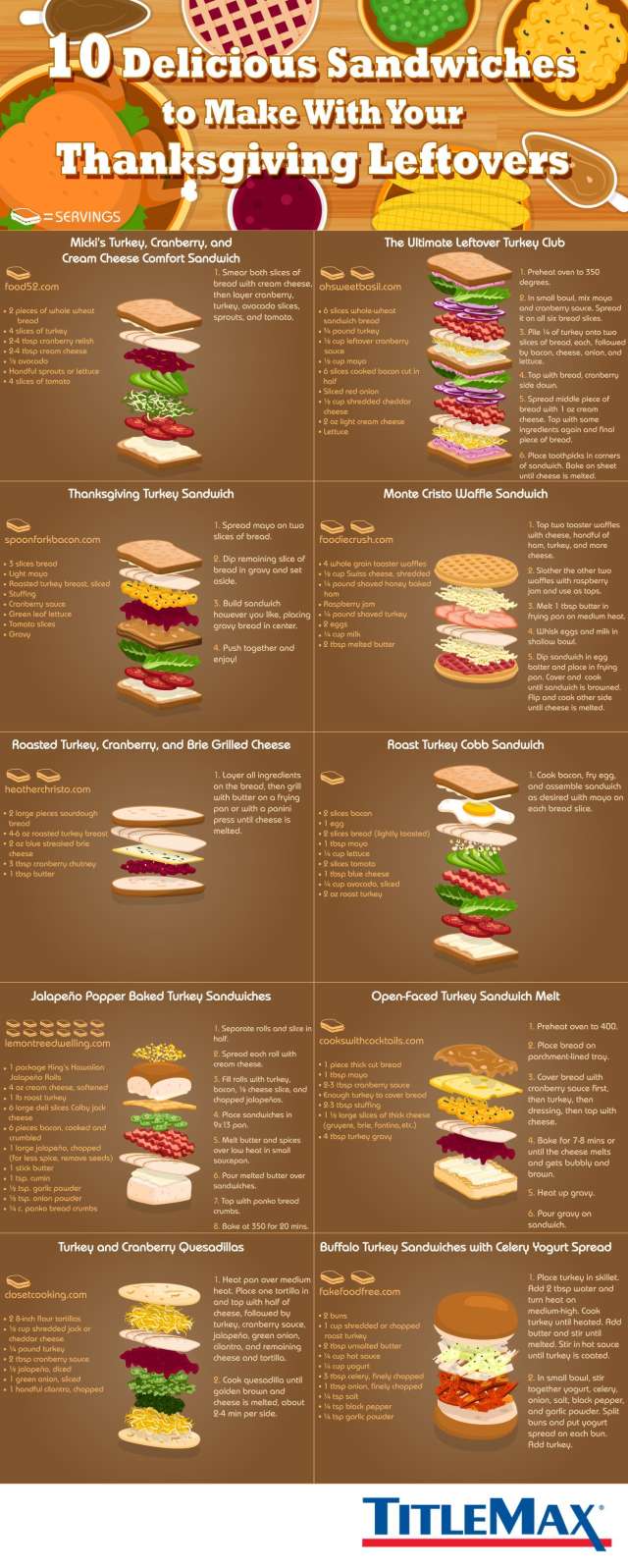 10 Delicious Sandwiches to Make With Your Thanksgiving Leftovers infographic
10 Delicious Sandwiches to Make With Your Thanksgiving Leftovers
Sandwich
Servings
Ingredients
Instructions
Source
Micki's Turkey, Cranberry, and Cream Cheese Comfort Sandwich
Yields 1 sandwich

2 pieces of whole wheat bread
4 slices of turkey
2-4 tbsp cranberry relish
2-4 tbsp cream cheese
½ avocado
Handful sprouts or lettuce
4 slices of tomato

Smear both slices of bread with cream cheese then layer cranberry, turkey, avocado slices, sprouts, and tomato.

food52.com
The Ultimate Leftover Turkey Club
Yields 2 sandwiches

6 slices whole-wheat sandwich bread
¾ pound turkey
½ cup leftover cranberry sauce
½ cup mayo
6 slices cooked bacon cut in half
Sliced red onion
½ cup shredded cheddar cheese
2 oz light cream cheese
Lettuce

Preheat oven to 350 degrees.
In small bowl, mix mayo and cranberry sauce. Spread it on all six bread slices.
Pile ¼ of turkey onto two slices of bread, followed by bacon, cheese, and onion.
Top with bread, cranberry side down.
Spread middle piece of bread with 1 oz cream cheese. Top with same ingredients again and final piece of bread.
Place toothpicks in corners of sandwich. Bake on sheet until cheese is melted.

ohsweetbasil.com
Thanksgiving Turkey Sandwich
Yields 1 sandwich

3 slices bread
Light mayo
Roasted turkey breast, sliced
Stuffing
Cranberry sauce
Green leaf lettuce
Tomato slices
Gravy

Spread mayo on two slices of bread.
Dip remaining slice of bread in gravy and set aside.
Build sandwich however you like, placing gravy bread in center.
Push together and enjoy!

spoonforkbacon.com
Monte Cristo Waffle Sandwich
Yields 2 sandwiches

4 whole grain toaster waffles
½ cup Swiss cheese, shredded
¼ pound shaved honey baked ham
Raspberry jam
¼ pound shaved turkey
2 eggs
¼ cup milk
2 tbsp melted butter

Top two toaster waffles with cheese, handful of ham, turkey, and more cheese.
Slather the other two waffles with raspberry jam and use as tops.
Melt 1 tbsp butter in frying pan on medium heat.
Whisk eggs and milk in shallow bowl.
Dip sandwich in egg batter and place in frying pan. Cover and book until sandwich is browned. Flip and cook other side until cheese is melted.

foodiecrush.com
Roasted Turkey, Cranberry, and Brie Grilled Cheese
Yields 2 sandwiches

2 large pieces sourdough bread
4-6 oz roasted turkey breast
2 oz blue streaked brie cheese
3 tbsp cranberry chutney
1 tbsp butter

Layer all ingredients on the bread, then grill with butter on a frying pan or with a panini press until cheese is melted.

heatherchristo.com
Roast Turkey Cobb Sandwich
Yields 1 sandwich

2 slices bacon
1 eggs
2 slices bread (lightly toasted)
1 tbsp mayo
¼ cup lettuce
2 slices tomato
1 tbsp blue cheese
¼ cup avocado, sliced
2 oz roast turkey

Cook bacon, fry egg, and assemble sandwich as desired with mayo on each bread slice.

Jalapeño Popper Baked Turkey Sandwiches
Yields 12 mini sandwiches

1 package King's Hawaiian Jalapeño Rolls
4 oz cream cheese, softened
1 lb roast turkey
6 large deli slices Colby jack
cheese
6 pieces bacon, cooked and crumbled
1 large jalapeño, chopped (for less spice, remove seeds)
1 stick butter
1 tsp. cumin
½ tsp. garlic powder
½ tsp. onion powder
¼ c. panko bread crumbs

Separate rolls and slice in half.
Spread each roll with cream cheese.
Fill rolls with turkey, bacon, ½ cheese slice, and chopped jalapeños.
Place sandwiches in 9×13 pan.
Melt butter and spices over low heat in small saucepan.
Pour melted butter over sandwiches.
Top with panko bread crumbs.
Bake at 350 for 20 mins.

lemontreedwelling.com
Open-Faced Turkey Sandwich Melt
Yields 1 sandwich

1 piece thick cut bread
1 tbsp mayo
2-3 tbsp cranberry sauce
Enough turkey to cover bread
2-3 tbsp stuffing
1 and ½ large slices of thick cheese (gruyere, brie, fontina, etc.)
4 tbsp turkey gravy

Preheat oven to 400.
Place bread on parchment-lined tray.
Cover bread with cranberry sauce first, then turkey, then dressing, then top with cheese.
Bake for 7-8 mins or until the cheese melts and gets bubbly and brown.
Heat up gravy.
Pour gravy on sandwich.

cookswithcocktails.com
Turkey and Cranberry Quesadillas
Yields 1 quesadilla

2 8-inch flour tortillas
½ cup shredded jack or cheddar cheese
¼ pound turkey
2 tbsp cranberry sauce
½ jalapeño, diced
1 green onion, sliced
1 handful cilantro, chopped

Heat pan over medium heat. Place one tortilla in and top with half of cheese, followed by turkey, cranberry sauce, jalapeño, green onion, cilantro, and remaining cheese and tortilla.
Cook quesadilla until golden brown and cheese is melted, about 2-4 min per side.

closetcooking.com
Buffalo Turkey Sandwiches with Celery Yogurt Spread
Yields 2 sandwiches

2 buns
1 cup shredded or chopped roast turkey
2 tbsp unsalted butter
¼ cup hot sauce
¼ cup yogurt
3 tbsp celery, finely chopped
1 tbsp onion, finely chopped
¼ tsp salt
¼ tsp black pepper
¼ tsp garlic powder

Place turkey in skillet. Add 2 tbsp water and turn heart on medium-high. Cook turkey until heated. Add butter and stir until melted. Stir it hot sauce until turkey is coated.
In small bowl, stir together yogurt, celery, onion, salt, black pepper, and garlic powder. Split buns and put yogurt spread on each bun. Add turkey.

fakefoodfree.com
A whole cooked turkey is typically good for another three to four days in the refrigerator, according to the USDA. That's three to four days of crafty creations, like a masterful Thanksgiving leftover sandwich, grilled cheese, or breakfast. It's typically a race against time to finish everything up, and even the die-hard holiday enthusiast may still get a bit sick of eating a slab of meat covered in gravy, especially if your family enjoys turkey for both Thanksgiving and another holiday like Christmas. Turkey leftover recipes can be used for up to four days after the main event, assuming you haven't left it out on the table for too long, but always keep food safety in mind; when in doubt, throw it out. You might've saved a few dollars on lunch, but that won't mean much if you have to waste that money at a doctor's office. Bad turkey typically has become slimy, may have changed color slightly, and has an odor. Good turkey won't be smelly or slimy and will generally look like it did when it came out of the oven.
Some of these leftover Thanksgiving recipes also require cranberry sauce, gravy, and stuffing. Gravy is typically good for one or two days refrigerated, and cranberry sauce is good for 10 to 14. Stuffing is usually good for about the same amount of time as the turkey. Leftovers also can be frozen, which can extend the life of everything by about two months, so if you're still scrambling to figure out what to do with Thanksgiving leftovers, freezing them in plastic bags is an option. However, it is possible that the meat won't be as delicious and moist once it thaws.
Luckily, there are some super-creative Thanksgiving leftover ideas out there. Did you ever think of whipping out your waffle iron for your stuffing? How about creating tacos? Some people have even made sushi, pizza, or egg rolls. You can get really creative and exciting when figuring out how to use Thanksgiving leftovers, but since many of us will be entertaining guests and won't want to do much labor-intensive cooking after dinner's on the table, we've kept our focus on simple Thanksgiving sandwich recipe options. With a sandwich, you can quickly compile your meal in peace. All of these recipes using leftover turkey are pretty easy and don't require much in the kitchen, which is great after exhausting yourself preparing the holiday feast!
Hopefully, this answers the question of what to do with leftover turkey! Try combining your turkey with brie, Swiss cheese, or hot sauce. Experiment and perhaps you'll create your own tradition with one of these top 10 leftover Thanksgiving recipes!
---