Tailgating Finger Food Recipes By NFL Team
For your next football party and tailgating event
Sports fans, rejoice! We've created a list of the best tailgate food recipes with traditional football foods for all 32 teams in the NFL! From Buffalo wings for the Buffalo Bills to crab rolls for the Seattle Seahawks, each of these super-famous finger foods would be great at your next football party!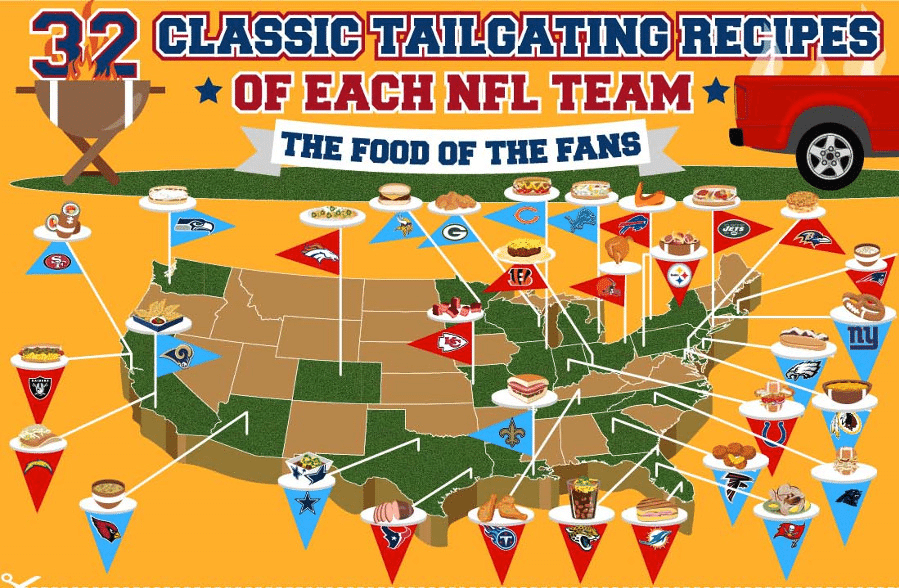 Would you like to add this infographic to your page? Copy and paste this embed code:

<a href="https://www.titlemax.com/discovery-center/home-and-family/tailgate-finger-foods/" <g class="gr_ gr_43 gr-alert gr_spell gr_inline_cards gr_run_anim ContextualSpelling ins-del multiReplace" id="43" data-gr-id="43">img</g> src="http://i.imgur.com/wrVrj6V.jpg" alt="32 Tailgating Recipes of Each NFL Team" title="32 Tailgating Recipes of Each NFL Team - TitleMax.com- Infographic"></a><br><a href="http://www.titlemax.com" alt="TitleMax.com" title="TitleMax.com">By TitleMax.com</a>[/prism]
Tailgating is a fascinating phenomenon of small parties and gatherings before a football game, usually around the open backs of trucks. The practice is so interesting that it's caught the eye of anthropologists. Over the years, each team's fans have created a microculture, and it's almost always centered around food. It's true that each of the 32 primary NFL teams has a unique culinary heritage, and it's so important that sometimes, it even affects a player's decision to join a team or not.
Regional Recipes vs. National Favorites
The best tailgate recipes usually involve local cuisine, like chowder for the Patriots and pork tenderloin sandwiches for the Colts; however, some communities have helped spread whole culinary fads across the country, like the now-famous beer-can chicken. These football recipes are often handed down from generation to generation. Some have the best dip, some have the best dessert, some specialize in chili, and some are experts at a barbecue. But, one should not underestimate how serious many tailgaters across the country take barbecuing. Regardless of where you are and at almost every football stadium, you'll see tailgating foods that involve slow-cooking over a grill.
Finger Food vs. Messy Meals
Beyond "BBQ," traditional football food can include anything from pretzels to hot dogs. Many ideas make for excellent football party finger food, like toasted ravioli, which was a favorite for the Rams before they moved to Los Angeles, hush puppies, and fried cheese curds, to name a few. But understandably, some tailgate foods get a bit messy, like green chili nachos, lechon asado, and most tailgate chili recipes.
Healthy vs. Heart Attack
One might notice that most of these aren't exactly healthy tailgate recipes. Usually, tailgaters will splurge a bit in the fat and carbohydrate departments. Out of this list, you're likely best off enjoying the comparatively healthy tailgate foods of the Arizona Cardinals green chili stew; the Seattle Seahawks fresh local seafood dish that is sort of like a lobster roll, but with Dungeness crab instead; the 49ers sushiritto; or the Chargers fish tacos which come in many varieties. But, if you're dieting, you might be better off making some non-traditional options for your guests that focus on healthy tailgate ideas.
Hours of Cooking vs. Easy Cheats
If you're looking for easy tailgate food ideas, note that some recipes on this list are far more labor-intensive than others. For instance, homemade pretzels (which the New York Giants enjoy) may take several hours, as would traditional Kansas City burnt ends. On the other hand, it doesn't get much easier than crab dip. Some of these easy tailgate finger food recipes take only a few minutes to make, but many years to perfect, like Buffalo wings and the favorite of the Tennessee Titans, fried chicken.
Which Tailgating Ideas Will Win?
The best tailgating recipes are the ones that are right for the region, the tools you have at hand, and your family's preferences. Football recipes will vary a great deal based on whether or not you have a grill in the back of your truck, you prefer a slow-cooker, or you just want some snacks versus a full menu for the whole party. Hopefully, these football food ideas will help you come up with the best item that will have your team's fans licking their chops and dripping sauce on their jerseys!
---