30 Ways to Earn Passive Income
It's time to start earning a bunch of money for very little work. Does this sound like an unrealistic fantasy? Nay, fair friends, 'tis the fantastical land of passive income; perhaps we shall traipse through the brambles of finance and creativity, have a gallant adventure, and find the best passive income ideas for 2020 on this fine day.
In all seriousness, here are some practical tips on how to make passive income this year, whether you have some money saved or very little money to start with. If you have a little saved up, here are some smart passive income investments to check out. If you have nothing but your own ingenuity, here's how to create passive income with no money and set yourself up for a potential payout in a few months or years.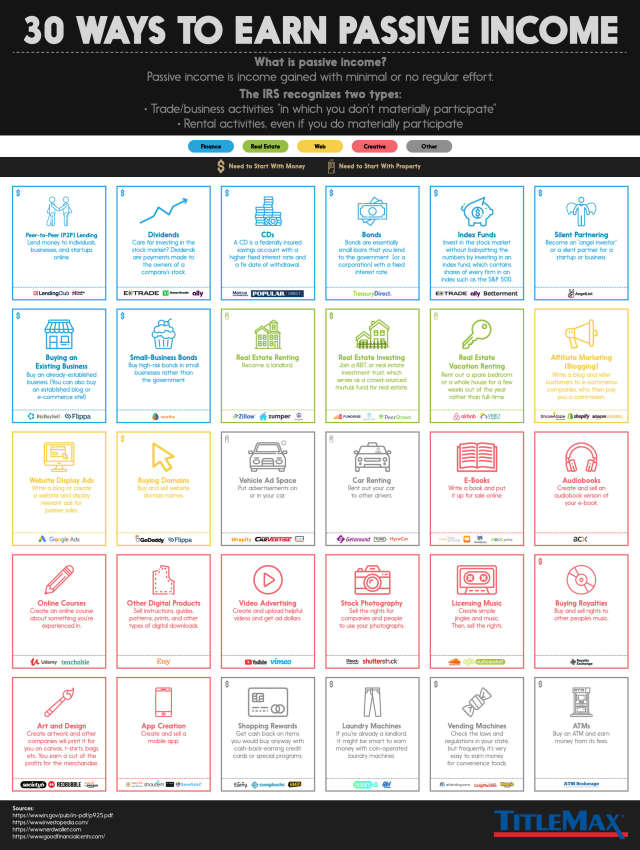 30 Ways to Earn Passive Income infographic
---
Generating passive income is not as difficult as it sounds, and some people have earned enough to help pay for college with just smart investments. If you have a little bit of time, energy, and, depending on your method, property or money to get started, the plans you make now can have a big effect in a few years. Some would argue that this strategy is how one becomes wealthy; it gives you a return on an initial time investment rather than a constant one, freeing you up to invest in more things. The wealthy get even wealthier with these strategies, so why can't you?
The difficult secret to having multiple streams of income is managing the risk. Risk, the evil dragon of this proverbial fantasy land, is something to think about as you're examining our 30 ways to earn passive income. For example, could you create a YouTube channel that gets suddenly demonetized and earns nothing? Yes. Could you invest in bad stocks? Sure. Whatever you invest — time, money, or property — may lead to fewer returns, and you should know that going in. But your one YouTube video about finding buttercups outdoors might blow up, and your stock portfolio might shine in the next few years with smart investments. If you're really nervous, chose methods for creating passive income that have lower risk, like bonds, CDs, or creating simple digital products.
Find the passive income opportunity that's right for you and go forth, brave warrior!
What Is Passive Income?
You can define passive income as any income gained with little to no regular effort. It can either consist of trade/business activities where you don't "materially participate" or rental activities in which you may "materially participate." Look at the IRS's passive income definition to see how they define material participation.
The 30 Best Ways to Make Passive Income
Let's get into some great passive income examples and ideas:
1 – Peer-to-Peer (P2P) Lending
The online world has made this a hugely popular method for linking businesses and investors without the fees associated with banks. Check out the Lending Club and Funding Circle apps.
2 – Dividends
The stock market is how a lot of people earn money for very little involvement. It can be risky, of course, but about 52% of Americans have money invested in the stock market. If you're looking to get started, research apps like E-Trade, Ally, or Ameritrade.
3 – Certificates of Deposit (CDs)
Perhaps you're looking for something a little bit more secure than horse-betting on the stock market. Certificates of deposit are basically a high-yield savings account where you're not allowed to pull money out before a set withdrawal date (or else you'll get hit with big fees). Numerous different banks offer CDs.
4 – Bonds
Bonds are typically seen as safer than stocks. Rather than investing in a company that expects to make money, you're essentially becoming your own lender, giving a loan out to a trustworthy source that gives back money with interest. Buyers typically get bonds with the government or major corporations.
5 – Index Funds
There are dozens and dozens of potential index funds to look at, but basically, the idea is that they are a hands-off way of investing in the stock market with a more risk-balanced approach. It's a mutual fund created to track the broader market by investing in an index; the Standard & Poor's 500 Index is the most famous example.
6 – Silent Partnering
Partner with or invest in an already-successful business. If you're really feeling risky, check out some cool startups. AngelList is one of the most popular apps for this.
7 – Buying an Existing Business
With BizBuySell or Flippa, you could buy an already-established business outright. A good idea would be to buy an e-commerce business or blog that's already successful in a specific niche, then perhaps use affiliate marketing or some of the other strategies on this list.
8 – Small-Business Bonds
Get higher-risk bonds for small businesses with Worthy.
9 – Real Estate Renting
Being a landlord is a little bit stressful for newbies, but if you have property, some fix-it know-how, and ingenuity, it's basically low-involvement money. It's possibly one of the most common methods for earning passive income.
10 – Real Estate Investing
Some hail this method as one of the best passive income ideas out there. With apps like Fundrise, RealtyShares, and PeerStreet, you basically join a trust that creates crowdsourced mutual funds based on real estate.
11 – Real Estate Vacation Renting
If you have property, some would argue that you can make more money vacation renting rather than ordinary renting. Check out sites like AirBnB and VRBO.
12 – Affiliate Marketing
That's all if you have money or property to begin with. What if you're not starting with much in your pocket? Many people recommend starting a blog, but monetizing a blog can be a little difficult. Something that's popular in the blogosphere now is affiliate marketing, where you get a commission based on leading customers to certain sites or products. Check out ShareASale, Shopify, ClickBank, and the Amazon Associates program.
13 – Website Display Ads
This is another method for how to generate passive income with a blog or website: Just display advertisements on it! Get set up with Google Ads.
14 – Buying and Selling Domains
Here's one of the examples of passive income opportunities that can get a little risky if you don't know what you're doing. Domain brokerage, though, can be super-profitable if you find the right names. Check out GoDaddy and Flippa to find a profitable domain name.
15 – Vehicle Ad Space
Wrapify, Carvertise, or Vugo allow you to earn for just driving around with your car covered in advertisements.
16 – Car Renting
Much like AirBnB for cars, apps like Getaround, Turo, and HyreCar allow you to rent something you might take for granted and not be using all the time.
17 – E-Books
It's really easy to publish a book or helpful manual with Kindle Direct Publishing, iBooks Author, Smashwords, and Nook Press.
18 – Audiobooks
If your e-book is successful, it's pretty easy to get an audiobook version of it made with the AudioBook Creation Exchange.
19 – Online Courses
Chances are good that you have expertise in something. Record materials for a course on Udemy and Teachable and you'll keep earning on that knowledge.
20 – Other Digital Products
Sometimes the biggest earners on sites like Etsy are not the finished products themselves but the materials, patterns, and instruction guides. That's just one example of the many dozens of types of digital products you could offer on your own website or other platforms.
21 – Video Advertising
If you have that expertise, short videos explaining how to do simple things might bring in some advertising dollars in a big way. Of course, that's one of the many tactics you can use on YouTube. A personal vlog might not be a terrible idea, either!
22 – Stock Photography
Bloggers are desperate for simple photography of basic concepts. Earn money continuously after the photo has been snapped on iStock Photo or Shutterstock.
23 – Licensing Music
Come up with a jingle or record some sound effects and sell the rights on SoundCloud or Audiosocket.
24 – Buying Royalties
If you want to earn passive income without writing your own music, buy and sell the rights to other music with Royalty Exchange.
25 – Art and Design
As we mentioned in our exploration of 150 apps for earning money without a job that's 9-to-5, there are dozens of ways to sell your art online. One of the most popular art-related passive income creation methods is to use sites that print your designs on merchandise for you and pay you based on sales, like Society6, Redbubble, and Merch by Amazon.
26 – App Creation
It's a lot easier than you think to make and sell a mobile app, now that there are sites like Appy Pie, Shoutem, GameSalad, and Mobile Rodie.
27 – Shopping Rewards
This one only works as a passive income method if you're bound to buy these items anyway. Signing up for cash-back rewards or getting money back with Earny, Swagbucks, or Ebates might be a good idea if you're spending for multiple people.
28 – Laundromats
Now we're getting into some of the weirder ideas. A coin-operated laundromat is not the money-maker it once was, but it may be convenient to have a laundromat on the premises if you're already a landlord. Look for sales at Sears and ABT.
29 – Vending Machines
Vending machines require very little work to check on and maintain. Check the laws in your state and see if you can find some discounted vending machines on eVending.com, CandyMachines.com, or UsedVending.com.
30 – ATMs
Again, check on the laws in your state, but consider that a well-placed ATM might be a great money-maker for an already-established business. Check out sites like ATM Brokerage.
---