79 Weird Roadside Attractions for the Ultimate Road Trip
Wacky and Fun Landmarks Across America
America is a strange place. After driving your 100th or 400th mile, you tend to go a little crazy. We've broken the monotony of more than 4 million miles of plain road with some truly weird roadside attractions. Map out the perfect road trip using this huge list of the most absurd, zany, and downright fascinating American roadside attractions. In the US, we have some hick masterpieces, some amazing natural wonders, some of the weirdest "world's largest" versions of common things, and so many unusual roadside attractions that are so incredibly lame that they circle back to being cool again. Create your very own cross-country ultimate American road trip map with our list of 79 absurd roadside attractions from across the USA!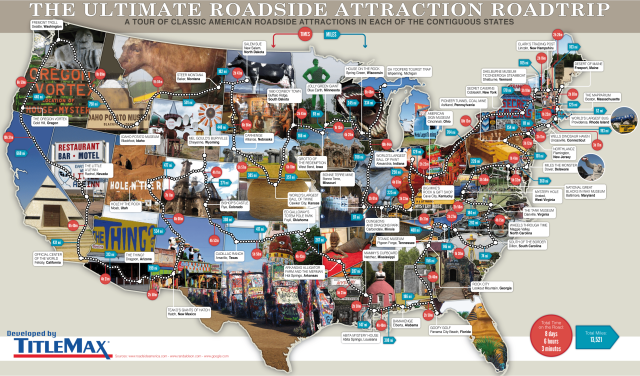 79 Weird Roadside Attractions Road Trip infographic
The Ultimate Roadside Attraction Roadtrip
A Tour of Classic American Roadside Attractions in Each of the Contiguous States
Roadside Attraction Name and Photo
Specific Location and State
Travel Time to Next Attraction
The Thing?
Dragoon, Arizona
2 h 50 min
199 miles
(to Hatch, New Mexico)
Teako's Giants of Hatch
Hatch, New Mexico
8 h
534 miles
Hole N" The Rock
Moab, Utah
7 h 11 min
477 miles
Mel Gould's Buryville
Cheyenne, Wyoming
4 h 11 min
271 miles
Bishop's Castle
Rye, Colorado
4 h 52 min
308 miles
Cadillac Ranch
Amarillo, Texas
5 h 58 min
417 miles
Ed Galloway's Totem Pole Park
Foyil, Oklahoma
4 h 43 min
267 miles
Arkansas Alligator Farm and the Merman
Hot Springs, Arkansas
5 h 25 min
287 miles
Mammy's Cupboard
Natchez, Mississippi
2 h 30 min
147 miles
Abita Mystery House
Abita Springs, Louisiana
4 h 40 min
308 miles
Bamahenge
Elberta, Alabama
2 h 50 min
186 miles
Goofy Golf
Panama City Beach, Florida
2 h 46 min
156 miles
Rock City
Lookout Mountain, Georgia
6 h 31 min
400 miles
Titanic Museum
Pigeon Forge, Tennessee
2 h 27 min
146 miles
Wheels Through Time
Maggie Valley, North Carolina
1 h 30 min
74 miles
South of the Border
Dillon, South Carolina
4 h 14 min
292 miles
The Tank Museum
Danville, Virginia
2 h 56 min
184 miles
Mystery Hole
Ansted, West Virginia
3 h 58 min
226 miles
National Great Blacks in Wax Museum
Baltimore, Maryland
5 h 32 min
360 miles
Miles the Monster
Dover, Delaware
1 h 41 min
101 miles
Pioneer Tunnel Coal Mine
Ashland, Pennsylvania
3 h 12 min
154 miles
Northlandz
Flemington, New Jersey
2 h 11 min
111 miles
Wells Dinosaur Haven
Uncasville, Connecticut
3 h 17 min
193 miles
World's Largest Bug
Providence, Rhode Island
1 h 22 min
52 miles
The Mapparium
Boston, Massachusetts
2 h 3 min
125 miles
Desert of Maine
Freeport, Maine
2 h 26 min
103 miles
Clark's Trading Post
Lincoln, New Hampshire
2 h 16 min
105 miles
Shelburne Museum Ticonderoga steamboat
Shelburne, Vermont
3 h 10 min
170 miles
Secret Caverns
Cobleskill, New York
10 h 13 min
704 miles
American Sign Museum
Cincinnati, Ohio
2 h 22 min
129 miles
World's Largest Ball of Paint
Alexandria, Indiana
4 h 3 min
250 miles
Big Mike's Rock & Gift Shop
Cave City, Kentucky
3 h 33 min
225 miles
Dungeons and Dragons Park
Carbondale, Illinois
2 h 1 min
97 miles
Bonne Terre Mine
Bonne Terre, Missouri
10 h 44 min
708 miles
Da Yoopers Tourist Trap
Ishpeming, Michigan
5 h 48 min
334 miles
House on the Rock
Spring Green, Wisconsin
4 h 26 min
245 miles
Jolly Green Giant
Blue Earth, Minnesota
1 h 13 min
65 miles
Grotto of the Redemption
West Bend, Iowa
2 h 45 min
166 miles
1880 Cowboy Town
Buffalo Ridge, South Dakota
6 h 10 min
357 miles
World's Largest Ball of Twine
Cawker City, Kansas
5 h 57 min
385 miles
Carhenge
Alliance, Nebraska
6 h 56 min
448 miles
Salem Sue
New Salem, North Dakota
2 h 43 min
182 miles
Steer Montana
Baker, Montana
9 h 4 min
591 miles
Idaho Potato Museum
Blackfoot, Idaho
11 h 9 min
758 miles
Fremont Troll
Seattle, Washington
6 h 59 min
440 miles
The Oregon Vortex
Gold Hill, Oregon
10 h 31 min
668 miles
The Little A'Le'Inn
Rachel, Nevada
6 h 40 min
431 miles
Official Center of the World
Felicity, California
4 h 21 min
313 miles
(to Dragoon, Arizona)
Total Time on the Road: 8 days 6 hours 3 minutes
Total Miles:
13,521
Sources

roadsideamerica.com, randalolson.com, google.com
Roadtrip #1: The Northeast
Maine, New Hampshire, New York, Vermont, Massachusetts, Rhode Island, Connecticut, New Jersey, and Pennsylvania
International Cryptozoology Museum — Portland, Maine
You know how Americans tend to believe that weird creatures like Bigfoot really exist? This is a real, serious museum exploring these rumored beasts.
Desert of Maine — Freeport, Maine
See a sandy desert in the middle of pine trees, like a reverse oasis. While the plastic camel can be a bit cheesy, this obviously failed farm turned tourist attraction exposes glacial silt and is preserved as a natural wonder.
Clark's Trading Post — Lincoln, New Hampshire
Famous for its trained bear show, this attraction tucked away in the White Mountains contains a history museum and a steam-powered railroad.
Ben & Jerry's Flavor Graveyard — Waterbury, Vermont
Honoring their dearly "de-pinted" ice cream flavors, the Ben & Jerry's factory also offers the "Vermonster," which is a giant sundae you can share with your kids.
The Witch House of Salem — Salem, Massachusetts
A historic building tied to the witch trials of 1692, the home of Jonathan Corwin is one of the favorite stops in the whole state for the month of October.
Hood Milk Bottle — Boston, Massachusetts
Boston locals are weirdly enthusiastic about this landmark, which serves as a 40-foot-tall concession stand next to the Children's Museum. Even though it might not be the world's largest, it seems to be the most loved bottle of milk structure.
Wells Dinosaur Haven — Uncasville, Connecticut
Check out the mini Jurassic Park in Connecticut of rocking dinosaurs, built by Jeff Wells out of fiberglass.
World's Largest Bug — Providence, Rhode Island
The Big Blue Bug, also known as Nibbles Woodaway, is a giant termite just chilling along I-95, advertizing for his pest control company. He's 928 times the size of a real termite and supposedly the world's largest artificial bug. Locals love Nibbles, frequently decorating him with hats, Christmas lights, and sunglasses.
Secret Caverns and Howe Caverns — Howes Cave, New York
New York's Schoharie County is, as it turns out, full of holes. Howe Caverns and its less-popular, more offbeat, colorful neighbor and competitor, Secret Caverns, have been wowing visitors for years. Just watch for some incredibly artistic, hand-painted signs that point the way!
JELL-O Gallery and Museum — Le Roy, New York
Fans of the jiggly, wiggly, essentially American dessert can be wowed by the outlandish flavors, interesting molds, fun recipes, and fascinating history that have come from more than a century of feeding fun.
Northlandz — Flemington, New Jersey
A model-train fan would go nuts at this German-styled miniature countryside, complete with bridges over canyons, thousands of buildings in mini cities (one section even has eight-foot skyscrapers), and more than eight miles of track. Also, there's a huge doll collection.

Video by livardo (YouTube)
Lucy the Elephant — Margate City, New Jersey
A national historic landmark and the "World's Greatest Elephant," this hotel-turned-tourist-attraction is a local favorite.
Pioneer Tunnel Coal Mine — Ashland, Pennsylvania
Go underground into an actual anthracite coal mine! This spot has everything from a steam locomotive to a ride that goes straight into the side of a mountain.
The South
Maryland, Delaware, Virginia, West Virginia, Kentucky, North Carolina, South Carolina, Tennessee, Georgia, Alabama, Arkansas, Mississippi, Florida, Louisiana
Fountain of Youth — Lewes, Delaware
If this actually works, we're prepared to live the life from Tuck Everlasting.
Miles the Monster — Dover, Delaware
You might actually be on your way to see a race at Dover International Speedway, but why not wave to the monster while you're there?
National Great Blacks in Wax Museum — Baltimore, Maryland
Madame Tussauds is a bit too white, wouldn't you say? This attraction for history buffs features more than a hundred influential African Americans.
The Tank Museum — Danville, Virginia
A former millionaire collected tanks from all over the world as well as helmets and other military items and reproductions.
Foamhenge — Natural Bridge, Virginia
Do we need so many Stonehenge replicas in America? Yes. This fiberglass and foam art replica was made by Enchanted Castle Studio.
The Mystery Hole — Ansted, West Virginia
The magical mystery hole dazzles visitors because of its gravity, or lack thereof. The series of optical and physical illusions combines wacky folk art and hippie charm and has created an enthusiastic group of avid fans.

Video by douglaseye (YouTube)
Arkansas Alligator Farm Merman — Hot Springs, Arkansas
Right outside of Hot Springs National Park, the privately owned zoo also features a sideshow favorite: a carcass supposedly pulled out of the South China Sea called the "Fiji Mermaid."
Christ of the Ozarks — Eureka Springs, Arkansas
Built during the Great Depression, this state of Jesus may seem like a small, milk-carton-like imitation of the world-famous Christ the Redeemer of Brazil, but it still brings in a crowd.
Mammy's Cupboard — Natchez, Mississippi
This controversial yet locally loved miniature restaurant and gift shop was once made to imitate the black character from Gone With the Wind but was painted a lighter shade in the 1960s.
Abita Mystery House — Abita Springs, Louisiana
This folk art museum features everything from pottery to a vintage gas station to completely real and not-at-all-fake animals, such as the above "gatorduck."
Bamahenge — Elberta, Alabama
Also home to random dinosaurs wandering the wood, Elberta houses its own Americanized recreation of Stonehenge out of fiberglass.
Unclaimed Baggage Center — Scottsboro, Alabama
With more than a million visitors every year, this treasure trove contains items that have been packed away in a suitcase and never claimed at the airport.
The World's Largest Buffalo Chicken Wing — Madeira Beach, Florida
Outside of a huge Hooters and overlooking the beach, this massive wing weighs in at 1,037 pounds.
Coral Castle — Homestead, Florida
As this huge art project was carved out of coral by a single man, no one knows how Ed Leedskalnin made this piece. Supposedly, no one ever saw him work on it, and he used "the secrets of the pyramids" to build it. It's beautiful either way.
Rock City — Lookout Mountain, Georgia
You can view seven states at once from Lover's Leap at this Lookout Mountain site.
Georgia Guidestones — Elbert County, Georgia
Sometimes called "the American Stonehenge" (and not to be confused with the other henges in this list), the granite monument is inscribed with a set of guidelines in eight languages. The guidelines are general recommendations for ruling humanity in a post-apocalypse wasteland.
Titanic Museum — Pigeon Forge, Tennessee
Have you ever wanted a ticket to board a ship fated to sink? Well, your dream has come true! Featuring rare items pulled from the vessel and complete re-creations of rooms in the ship, this relatively new attraction has been drawing history and film buffs from all over the country.
World's Largest Chest of Drawers — High Point, North Carolina
This might seem pretty lame, but once you're near the oversized chest of drawers, you'll also happen to be in one of the best places in the world for buying furniture.
Peachoid — Gaffney, South Carolina
A strangely much-loved water tower made in the shape of a giant peach, this iconic landmark is near the border between North Carolina and South Carolina and has spawned decades of dad jokes about buttocks.
UFO Welcome Center — Bowman, South Carolina
Built in Jody Pendarvis's backyard, this flying saucer is meant for locals on Earth to welcome our extraterrestrial friends. Pendarvis claims to be able to talk to them.
South of the Border — Dillon, South Carolina
With 120 very pun-based billboards, this gimmicky favorite is most often visited by road-tripping northerners. But the food is pretty good!
The Rural West
Idaho, Montana, Wyoming, Colorado, North Dakota, South Dakota, Nebraska, Kansas, Oklahoma
Ed Galloway's Totem Pole Park — Foyil, Oklahoma
Home of the world's largest totem pole, this park has been famous since the heyday of Route 66. Now, it's an honored outdoor museum.
World's Largest Ball of Twine — Cawker City, Kansas
It's sad and strange that America would have an intense battle for which is the actual largest ball of twine. But Kansas's mammoth ball seems to be the biggest.
The World's Largest Collection of the World's Smallest Versions of the World's Largest Things — Lucas, Kansas
(Talk about your convoluted concepts … ) This mobile museum is a collection of the tiniest versions of the "world's largest" versions of things, like the world's largest ball of twine, made to be about the size of your thumb.
Carhenge — Alliance, Nebraska
Artist Jim Reinders made yet another of America's rendition of classic Stonehenge, this time with 39 used cars, painted gray.
Mel Gould's Buryville — Cheyenne, Wyoming
Metal artists and tinkerer Mel Gould's place is a collection of wild and weird sculptures.
Bishop's Castle — Rye, Colorado
A one-man, 40-year project that began when Jim Bishop dropped out of high school, the "castle" is made on a mountainside out of more than 1,000 tons of rock in the middle of nowhere.
Cano's Castle — Antonito, Colorado
The ultimate find in beer can folk art, this self-built castle is comprised of four glittering towers made of smashed beer cans and hubcaps.
UFO Watchtower — Hooper, Colorado
Say hello to interstellar neighbors while at this peaceful campground in the beautiful San Luis Valley.
Wall Drug Backyard — Wall, South Dakota
Hundreds of billboards draw visitors to "the geographical center of nowhere," which boasts a cowboy orchestra, dinosaur, and jackalope.
World's Only Corn Palace — Mitchell, South Dakota
An actually usable, multipurpose facility decorated with crop art made from corn and grains, the Mitchell Corn Place is redecorated with new corn murals every year. It hosts rock concerts, shows, and even a polka festival.
The Enchanted Highway — Regent, North Dakota
This is a really, really boring highway to drive down, but the long prairie in North Dakota is sometimes interrupted by huge, reality-skewing sculptures that can make your drive more magical.
Salem Sue — New Salem, North Dakota
It's a big cow (the world's largest fiberglass cow, in fact).
Steer Montana — Baker, Montana
It's a big, dead steer. It was the world's largest until Old Ben in Kokomo, Indiana, grew to be bigger.
Garden of One Thousand Buddhas — Arlee, Montana
It doesn't get more peaceful than a gorgeous garden in the middle of the Montana wilderness. Home to many retreats and festivals, it's a pilgrimage destination for the Western Hemisphere.
Idaho Potato Museum — Blackfoot, Idaho
How much more boring can you get than the starchy potato? And yet, this little museum in Idaho manages to make it interesting.
The World's Largest Beagle — Cottonwood, Idaho
Have you ever hoped to sleep inside a dog-themed inn? When you're roaming Idaho, you'll have your chance.
The Midwest
Minnesota, Wisconsin, Michigan, Iowa, Illinois, Missouri, Kentucky, Ohio, Indiana
American Sign Museum — Cincinnati, Ohio
The summation of America's art of grabbing the attention of passers-by pulled together all in one place, this museum is especially fun for those who love weird roadside attractions. These master neon-workers have done a great job keeping up these classic signs (and pay somewhere around $45,000 per year in electricity bills).
World's Largest Ball of Paint — Alexandria, Indiana
After accidentally dropping a baseball in paint in high school, Michael Carmichael painted a baseball with numerous layers of colored paint every day for 34 years. Mad, you say? Well, now, this more-than-a-ton oddity draws crowds from all over the world.
Dungeons and Dragons Park — Carbondale, Illinois
A teenaged boy passed away in a car accident, and his father, who knew that he loved playing Dungeons and Dragons, coordinated donations to build and maintain this memorial park in his honor, complete with dragons, wizards, and a castle playground.
Vent Haven Ventriloquist Museum — Fort Mitchell, Kentucky
Perhaps you'll learn how to animate dolls while barely moving your lips. Or perhaps you'll enjoy some nightmares. Either way, this stop is the home of more than 800 dummies and the only museum of its kind in the world.
Bonne Terre Mine — Bonne Terre, Missouri
We'd like to say "Wow, Nature!" but this is actually a man-made mine. It's one of the earliest deep-earth lead mines and now serves as a cool cavern for diving and riding along on a raft.
Nuclear Waste Adventure Trail and Museum — Weldon Spring, Missouri
No, really. You read that right. If you're hoping to get superpowers from a waste dump, this mound hides 1.48 million cubic yards of unsavory materials.
Da Yoopers Tourist Trap — Ishpeming, Michigan
Hey, they called themselves a tourist trap! This place has the world's largest working chainsaw (called Big Ernie), the world's largest working rifle, a collection of folk art, live entertainment, and a celebration of all things hick.
The Heidelberg Project — Detroit, Michigan
If you happen to be traveling through the run-down part of Detroit, you may see a huge art project made out of an old suburban landscape. It goes to show that Americans can make the best out of any situation.
House on the Rock — Spring Green, Wisconsin
How do we explain this one? Do you like weird stuff? This place has lots of weird stuff. It's a resort, inn, and attraction all in one. There's a giant sea monster, an optically confusing infinity room that hangs 15 stories above a forest floor, a huge indoor carousel, antique music machines, a gorgeous Japanese-style garden, and antiques from the 1964 World's Fair. It's been compared to "an acid trip without the acid."
Jolly Green Giant — Blue Earth, Minnesota
This familiar American mascot looks so happy to be providing healthy vegetables at 55 feet high!
Grotto of the Redemption — West Bend, Iowa
A vast collection of fossils, shells, minerals, and semi-precious stones make up this depiction of the life of Jesus, making this priest's project worth somewhere around an estimated $4 million.
The Southwest
Texas, New Mexico, Arizona, Utah, Nevada
Teako's Giants of Hatch — Hatch, New Mexico
Another homage to big, goofy signs, this collection of huge roadside fiberglass statues is another stop for those who stop. Teako Nunn, the enthusiastic collector, has gathered a huge array of fun, thrown-out statues, from a giant robot to a 30-foot-tall Uncle Sam, to surround his restaurant, Sparky's Burgers.
Tinkertown — Sandia Park, New Mexico
Along the Turquoise Trail lies a massive museum of fair and carnival collections, including 50,000 glass bottles, in a unique mix of folk art and nostalgia.
Four Corners Monument — Utah/Colorado/Arizona/New Mexico
States aren't perfectly square, and nowhere else do the borders come together to form a perfectly perpendicular cross except right here.
The Thing — Dragoon, Arizona
This is among the best roadside attractions in America when it comes to teasing information with billboards, with more than 200 signs asking tantalizing questions like, "What Is The Thing?" After driving for miles along the seemingly endless desert landscape with nothing to really look at but the funny billboards, even the most stubborn drivers will be tempted to stop and inspect "The Thing," too.
London Bridge — Lake Havasu City, Arizona
No, it's not a replica! When you used to sing "London Bridge is falling down," this was the actual, real bridge you were talking about. It was purchased and brought to Lake Havasu by an enthusiastic millionaire for about $2 million.
Hole N" The Rock — Moab, Utah
Tour 14 rooms of a 5,000-square-foot home within the rock, check out the weird taxidermy and folk art, or pet the animals of the small zoo.
Beer Can House — Houston, Texas
Tucked into a fairly suburban sprawl is a folk-art masterpiece: a house covered in beer can parts and art. Created by John Milkovisch, a retired upholsterer, the house is a fun drive-by.
Cadillac Ranch — Amarillo, Texas
For more than 40 years, this line of colorful Cadillac cars has decorated the side of Interstate 40. Created in 1974 by artists from San Francisco, the originally plain vehicles were progressively defaced with graffiti, which was eventually encouraged, making them even more beautiful.
The Little A'Le'Inn — Rachel, Nevada
Earthlings can stop along the world-famous Extraterrestrial Highway and take a break from alien-hunting to enjoy an "alien burger" or shop for fun alien merchandise. It's a mecca for UFO tourism.
The West Coast
California, Oregon, Washington
Wild Metal Horses Monument — Vantage, Washington
From far away, at first glance, you may mistake these artful sculptures for the real wild stallions that once roamed freely in this part of the state.
Fremont Troll — Seattle, Washington
The Fremont neighborhood in Seattle is a pretty weird place, and in this self-proclaimed "center of the universe" lives a car-snatching troll under a bridge. Don't worry, though; locals love his friendly, ugly face.
The Oregon Vortex — Gold Hill, Oregon
Gravity may begin to behave strangely when you visit the Oregon Vortex and House of Mystery. Like the Mystery Hole, this is one of America's strange roadside attractions that mess with your mind with optical illusions.
Official Center of the World — Felicity, California
Californians tend to think they're at the center of the world. This guy really seems to believe it, though. Travel to the pyramid if you want to "recalibrate."
Cabazon Dinosaurs — Cabazon, California
Several movies, such as The Wizard, National Lampoon's Vacation, and Pee Wee's Big Adventure, have found themselves here, but the cement dinosaurs are a great treat for kids today, too.
Salvation Mountain — Niland, California
For more than 40 years, this line of colorful Cadillac cars has decorated the side of A folk art creation in the middle of the Colorado Desert, this inspirational work made from adobe, straw, and paint inspires explorers the world over.
Off the Mainland
Alaska, Hawaii
Santa Clause House — North Pole, Alaska
The North Pole is a real place, and Santa's house is there. Enjoy Christmas any time of the year! It's also home to the world's largest Santa Claus statue.
Dole Plantation Pineapple Maze — Wahiawa, Hawaii
Fourteen thousand colorful Hawaiian plants cover the huge labyrinth on the Dole Plantation. The fastest finishers can win a prize and record their names in the history books!
Sources:
---