The United States of Debt
Debt. It is a very real and daunting part of life. In the modern age, credit cards, student loans and mortgages can be unavoidable and once you've graduated from college and moved into the home of your dreams, after looking at the mountain of debt you have amassed, you may question if it was all worth it. You're not alone, millions of Americans are drowning in debt with little to no understanding of how to get their personal finances in order.
This infographic breaks down The United States of Debt by state and city to visualize which areas have the highest and lowest average debt and which types of debt they are suffering from the most.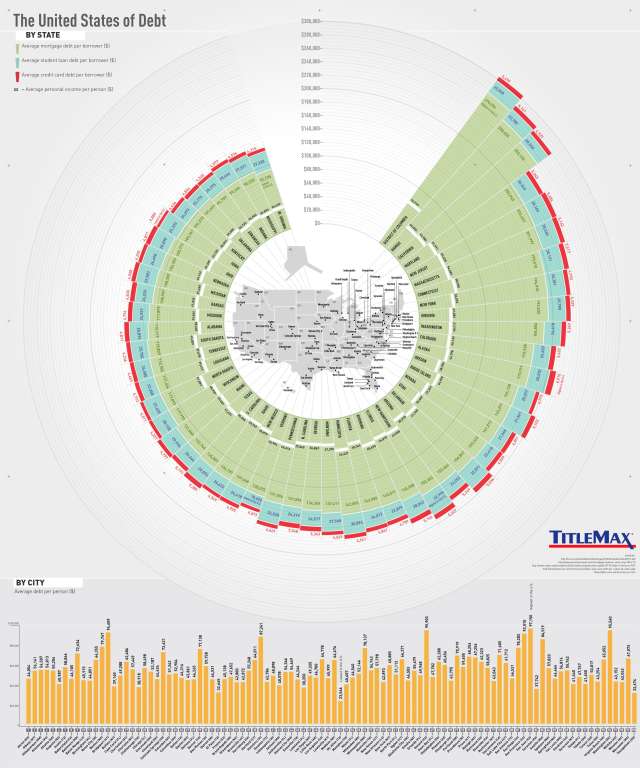 The United States of Debt infographic
The United States of Debt
Average Student Loan Debt
| | |
| --- | --- |
| New Hampshire | $32,795 (Highest in the U.S.) |
| Delaware | $32,571 |
| Pennsylvania | $32,528 |
| Rhode Island | $31,561 |
| Minnesota | $30,894 |
| Connecticut | $30,191 |
| Maine | $29,934 |
| Michigan | $29,583 |
| Iowa | $29,370 |
| South Carolina | $29,092 |
| Ohio | $29,090 |
| Alabama | $28,895 |
| Alaska | $28,570 |
| Massachusetts | $28,565 |
| Illinois | $28,543 |
| Indiana | $28,466 |
| Wisconsin | $28,128 |
| New Jersey | $28,109 |
| Mississippi | $27,571 |
| Montana | $27,568 |
| North Dakota | $27,425 |
| West Virginia | $27,320 |
| Vermont | $27,318 |
| Idaho | $26,622 |
| Nebraska | $26,490 |
| New York | $26,381 |
| Maryland | $26,349 |
| Kansas | $26,229 |
| Virginia | $25,780 |
| South Dakota | $25,750 |
| Oregon | $25,577 |
| Arkansas | $25,375 |
| Texas | $25,244 |
| Missouri | $24,957 |
| Kentucky | $24,693 |
| Tennessee | $24,585 |
| Colorado | $24,520 |
| Georgia | $24,517 |
| Washington | $24,418 |
| North Carolina | $24,319 |
| Florida | $24,017 |
| Louisiana | $23,358 |
| Wyoming | $22,879 |
| Hawaii | $22,785 |
| Utah | $22,418 |
| Arizona | $22,253 |
| Oklahoma | $22,174 |
| District of Columbia | $22,048 |
| Nevada | $21,666 |
| California | $20,340 |
| New Mexico | $18,656 (Lowest in the U.S.) |
*Figures from 2013 data collected by The Institute for College Access & Success
Average Mortgage Debt
| | |
| --- | --- |
| District of Columbia | $275,254 (Highest in the U.S.) |
| Hawaii | $258,020 |
| California | $253,120 |
| Maryland | $203,945 |
| New Jersey | $203,697 |
| Massachusetts | $201,997 |
| Connecticut | $195,018 |
| New York | $194,910 |
| Virginia | $193,655 |
| Washington | $186,856 |
| Colorado | $173,928 |
| Alaska | $173,771 |
| Oregon | $164, 128 |
| Rhode Island | $163,291 |
| Nevada | $161,812 |
| Utah | $159,632 |
| Delaware | $156,841 |
| Arizona | $152,664 |
| New Hampshire | $152,262 |
| Illinois | $145,508 |
| Wyoming | $143,017 |
| Florida | $142,985 |
| Minnesota | $142,895 |
| Montana | $137,411 |
| Georgia | $134,759 |
| North Carolina | $131,594 |
| Pennsylvania | $131,594 |
| Vermont | $128,372 |
| New Mexico | $127,648 |
| Idaho | $126,107 |
| South Carolina | $125,007 |
| Texas | $122,744 |
| Maine | $121,860 |
| Wisconsin | $117,993 |
| North Dakota | $117,893 |
| Louisiana | $117,404 |
| Tennessee | $116,964 |
| South Dakota | $115,829 |
| Alabama | $114,119 |
| Missouri | $111,879 |
| Kansas | $108,907 |
| Michigan | $108,385 |
| Nebraska | $106,355 |
| Ohio | $105,771 |
| Iowa | $103,361 |
| Kentucky | $102,273 |
| Oklahoma | $101,651 |
| Arkansas | $99,759 |
| Indiana | $99,493 |
| Mississippi | $98,230 |
| West Virginia | $93,195 |
*Figures from 2014 data collected by Experian Decision Analytics Group
Average Credit Card Debt
| | |
| --- | --- |
| 1. Alaska | $6,910 (Highest in the U.S.) |
| 2. Colorado | $5,625 |
| 3. Connecticut | $5,617 |
| 4. North Carolina | $5,548 |
| 5. District of Columbia | $5,499 |
| 6. New Jersey | $5,484 |
| 7. South Carolina | $5,389 |
| 8. Maryland | $5,345 |
| 9. Georgia | $5,343 |
| 10. Virginia | $5,329 |
| 11. New Hampshire | $5,327 |
| 12. Washington | $5,269 |
| 13. Delaware | $5,234 |
| 14. Texas | $5,173 |
| 15. Illinois | $5,166 |
| 16. Massachusetts | $5,142 |
| 17. Hawaii | $5,141 |
| 18. Rhode Island | $5,102 |
| 19. Arizona | $5,011 |
| 20. New York | $4,952 |
| 21. California | $4,937 |
| 22. New Mexico | $4,920 |
| 23. Florida | $4,861 |
| 24. Oklahoma | $4,854 |
| 25. Nevada | $4,851 |
| 26. Kansas | $4,830 |
| 27. Ohio | $4,817 |
| 28. Alabama | $4,817 |
| 29. Maine | $4,797 |
| 30. Missouri | $4,796 |
| 31. Wyoming | $4,789 |
| 32. Louisiana | $4,773 |
| 33. Oregon | $4,773 |
| 34. Vermont | $4,693 |
| 35. Tennessee | $4,669 |
| 36. Pennsylvania | $4,629 |
| 37. Mississippi | $4,594 |
| 38. Indiana | $4,577 |
| 39. Montana | $4,565 |
| 40. Utah | $4,559 |
| 41. Michigan | $4,558 |
| 42. Idaho | $4,549 |
| 43. Minnesota | $4,541 |
| 44. Arkansas | $4,535 |
| 45. Kentucky | $4,436 |
| 46. Wisconsin | $4,327 |
| 47. West Virginia | $4,315 |
| 48. Nebraska | $4,298 |
| 49. South Dakota | $4,236 |
| 50. North Dakota | $4,011 |
| 51. Iowa | $3,885 (Lowest in the U.S.) |
*Figures from 2013 data collected by TransUnion
Average Debt Per Person in Major U.S. Cities
Akron, OH $46,054
Madison, WI $64,676
Albany, NY $56,141
McAllen, TX $23,546 (Lowest in the U.S.)
Albuquerque, NM $56,507
Memphis, TN $40,607
Allentown, PA $56,813
Miami, FL $46,540
Atlanta, GA $55,204
Milwaukee, WI $52,144
Augusta, GA $40,987
Minneapolis, MN $78,137
Austin, TX $58,866
Nashville, TN $54,743
Bakersfield, CA $46,105
New Haven, CT $57,798
Baltimore, MD $72,634
New Orleans, LA $42,983
Baton Rouge, LA $45,915
New York, NY $60,885
Birmingham, AL $44,851
North Port, FL $51,112
Boise City, ID $64,355
Ogden, UT $66,271
Boston, MA $79,767
Oklahoma City, OK $44,502
Bridgeport, CT $94,609
Omaha, NE $55,679
Buffalo, NY $39,140
Orlando, FL $49,968
Cape Coral, FL $49,288
Oxnard, CA $95,903
Charleston, SC $62,486
Palm Bay, FL $47,782
Charlotte, NC $57,449
Philadelphia, PA $62,280
Chattanooga, TN $38,918
Phoenix, AZ $60,456
Chicago, IL $58,498
Pittsburgh, PA $43,795
Cincinnati, OH $53,187
Portland, OR $70,919
Cleveland, OH $44,624
Providence, RI $59,605
Colorado Springs, CO $73,621
Provo, UT $68,256
Columbia, SC $51,342
Raleigh, NC $67,256
Columbus, OH $52,904
Richmond, VA $62,323
Dallas, TX $46,316
Riverside, CA $58,825
Dayton, OH $43,861
Rochester, NY $43,043
Deltona, FL $44,265
Sacramento, CA $71,605
Denver, CO $77,138
Salt Lake City, UT $61,712
Des Moines, IA $59,758
San Antonio, TX $46,531
Detroit, MI $44,531
San Diego, CA $78,282
El Paso, TX $32,665
San Francisco, CA $92,010
Fresno, CA $45,138
San Jose, CA $97,150 (Highest in the U.S.)
Grand Rapids, MI $47,652
Scranton, PA $37,742
Greensboro, NC $42,800
Seattle, WA $84,519
Greenville, SC $42,872
Spokane, WA $57,820
Harrisburg, PA $55,248
Springfield, MA $46,464
Hartford, CT $64,011
St. Louis, MO $54,814
Honolulu, HI $87,241
Stockton, CA $55,742
Houston, TX $42,784
Syracuse, NY $41,440
Indianapolis, IN $48,898
Tampa, FL $47,767
Jackson, MS $40,078
Toledo, OH $41,650
Jacksonville, FL $54,546
Tucson, AZ $50,817
Kansas City, MO $54,649
Tulsa, OK $43,254
Knoxville, TN $44,246
Virginia Beach, VA $65,052
Lakeland, FL $38,350
Washington, DC $95,560
Las Vegas, NV $49,325
Wichita, KS $43,152
Little Rock, AR $46,700
Winston, NC $42,042
Los Angeles, CA $64,778
Worcester, MA $67,073
Louisville, KY $45,999
Youngstown, OH $32,774
*Figures from 2013 data collected by The Urban Institute