Rates & Terms for South Carolina
In-Store Loans
Personal Loan

This is another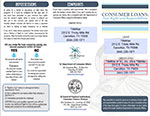 Online Loans
Personal Loan
12-Payment Installment Loan
Loan Proceeds
Finance Charge
Payment Schedule* 12 payments of:
Total of Payments
Annual Percentage Rate (APR)
$610.00
$1,678.85
$190.75
$2,288.85
388.93%
$700.00
$1,926.69
$218.89
$2,626.69
388.93%
$800.00
$2,202.02
$250.16
$3,002.02
388.93%
$900.00
$2,477.30
$281.43
$3,377.30
388.93%
$1,000.00
$2,752.58
$312.70
$3,752.58
388.93%
All loan examples above assume a 28-day payment schedule with 12 payments. The final scheduled payment amount typically differs from the standard payment amount. All Payment Schedules and APRs are examples only; actual payment amounts and APRs may vary depending on the month and date of loan origination.
Available Loan Amounts:  $610.00 for first time customers; returning customers with a good payment history may be eligible for loans up to $1,000.00
Loan Term: 12 payments
Interest: Simple interest of 390.00% per annum. Interest will continue to accrue on past due principal amounts until paid in full in accordance with South Carolina law.
Prepayment: There is no prepayment penalty.
Dishonored Payment Service Charge: As authorized by South Carolina Code of Laws § 34-11-70(a), Lender may impose a dishonored payment service charge in the amount of $30.00 for (i) any payment made by check, draft, or other written order that is returned or refused for processing, and (ii) any payment made electronically that is not honored or cannot be processed for any reason, including insufficient funds.
Delinquency Charge: 5% of the unpaid amount of any installment not paid by the end of the 10th day after the Payment Due Date for such installment or $18.50, whichever amount is less.