WHO WE ARE
TitleMax is one of the nation's largest title lending companies. Every day, TitleMax helps thousands of people get the cash they need with a title loan, title pawn or now in select states, with a personal loan. We offer rates that are very competitive, while providing a superior level of customer service. Since the first store's opening in 1998 in Georgia, TitleMax has expanded to over 900 locations spanning 14 states. With more than 2,000 team members nationwide, we pride ourselves on providing customers with clarity and confidence. You'll rest easy knowing that TitleMax is here to help.
WHAT WE OFFER
Car Title Loans

TitleMax specializes in Car Title Loans. This is the product that started it all! TitleMax was built on the idea of offering an alternative way for customers who, for whatever reason, could not quality for traditional loans or did not have the time to wait for weeks of approval deliberation. In a mainstream world of banking, forms, and dreaded credit checks, TitleMax strives to be an easy solution for getting the cash you need. We understand that life is full of unexpected challenges, many of which can only be overcome if you have access to fast cash. That's why TitleMax offers a car title loan product that allows you to use your car title to obtain the cash you need. Maybe you've already gotten a title loan with another company? Well, TitleMax doesn't want that to stop us from helping you! TitleMax may be able to refinance your existing loan! In as little as 30 minutes, a TitleMax car title loan can put cash in your pocket and get your life back on track. TitleMax offers several product types designed to fit your needs across the United States. That includes a list of 14 states, spanning from coast to coast:  Alabama, Arizona, Delaware, Georgia, Kansas, Mississippi, Missouri, Nevada, New Mexico, South Carolina, Tennessee, Texas, Utah and Wisconsin.
Car Title Pawns

In addition to our car title loan product, we also provide TitleMax Car Title Pawns. A car title pawn is very similar to a car title loan. Our Georgia TitleMax stores offer title pawns instead of the traditional title loan. Car title pawns come with all the same conveniences as car title loans… you can get cash in about 30 minutes and most credit types are accepted!
Motorcycle Title Loans

Since we first opened our doors for business, TitleMax has always been focused on being a solution to our customer's financial challenges. From expanding our number of title loan stores to offering new loan products, we are always trying to adapt to the changing world and our customer's ever-changing needs. So, when we started hearing that our customers needed more title loan options, we delivered.

TitleMax now offers motorcycle title loans in Alabama, Arizona, Delaware, Kansas, South Carolina, Tennessee, Texas, Utah, Mississippi, Missouri, New Mexico, Nevada, and Wisconsin.

Motorcycle title loans work similarly to our car title loan product… you get to use your motorcycle as your collateral, get cash in as little as 30 minutes, then get your title back shortly after you make your last payment. Just like motorcyclists should have the same rights on the road as every other vehicle, TitleMax feels you should have the same rights to alternative loan funding.
Motorcycle Title Pawns

Just as our Georgia stores offer car title pawns instead of car title loans, the same is true for motorcycle title loans and motorcycle title pawns. TitleMax is proud to provide motorcyclists of Georgia an option for getting the cash they need fast through a motorcycle title pawn. All you have to do is bring us your motorcycle with its clear (or lien-free) title and a valid government issued-ID, and we'll be able to get you cash in about 30 minutes. We'll work with you to get the cash you need when you need it and you'll get your title back shortly after you make your last payment.
Personal Loans

No two people are alike. Because of that, TitleMax is now offering Personal Installment Loans to customers in Arizona, Delaware, Idaho, Kansas, Mississippi, Missouri, Nevada, South Carolina, Tennessee, Texas, Utah, and Wisconsin. As with our other loans, Personal Loans from TitleMax offer a quick application process but they differ from title-secured loans/pawns because they are unsecured loans, meaning that you can apply for one even if you do not own a vehicle with a clear title. To get a Personal Loan you can get started online by reviewing the requirements and head in to one of our designated TitleMax stores, or you can skip the visit and apply online for a Personal Loan from the comfort of your own home! We can have you on your way to getting your life back on track in as little as 30 minutes in-store, or as soon as the next business day online.
WHERE WE ARE
With over 900 convenient locations, getting cash is easy with TitleMax! Find the nearest TitleMax location to you: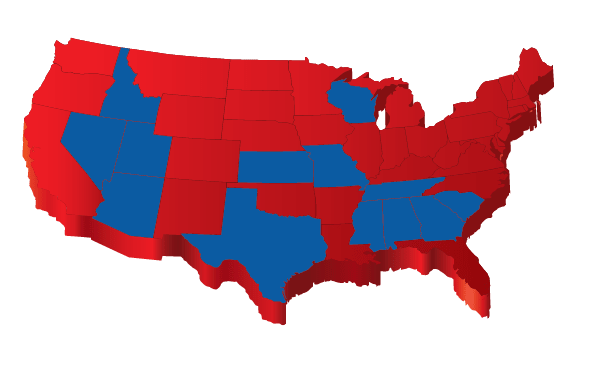 WHAT OUR CUSTOMERS ARE SAYING
TITLEMAX IN THE COMMUNITY
TitleMax cares about the communities we are in. We want the communities where our stores are located to be a great place to work, live, grow and play. This is why TitleMax is involved with numerous organizations—locally and across the United States!
WE ARE PROUD SUPPORTERS OF:
CONTACT US
At TitleMax, we're committed to providing the best customer experience possible. So if you have any questions, comments, or concerns, we want to hear from you. There are several ways for you to contact us.
If the options below won't work for you, we also have stores across the country and our associates are happy to help to assist you. Find the TitleMax closest to you on our Locations page!
CALL US 1-88-TITLEMAX
Chat Live Online
CAREERS WITH TITLEMAX
TitleMax has many exciting career opportunities waiting to be filled. Our store positions are focused on supporting our in-field locations and come with high earning potential and opportunities for career growth. Learn more about how you can be a part of the TitleMax team.
JOIN OUR TEAM